Selling & Buying Domain Names
We can sell or buy domain names to or from third parties for you. Domain names of the traditional TLD's (.com, .org, .net) are in short supply. Many existing domain names have a long history on the Internet, and this translates into value for the right buyers. If you would like to acquire or liquidate a domain name, call or contact us to help with the process.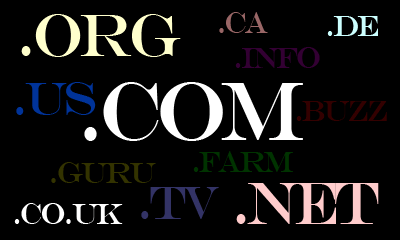 We also register new domain names for clients to whom we provide other services. We always name the proper person, corporation, or other entity as Registrant and the proper person or functional position as the Administrative Contact. We normally name ourselves as the Technical Contact because we are normally managing the technical issues for that domain.
After we register a domain name for a client, we also provide administrative services for that name. That includes reviewing contact information for it annually and updating it if necessary. This is required per ICANN, but also ensures that our clients remain in contact and control of that valuable property.
You can see the pertinent info on any domain name (registrant, contact info, name servers, registration date, etc.) by using our WHOIS query tool on this Web site. If we can assist you with domain names you own, would like to own or would like to sell, contact us here or call us.