When you ask yourself this question you probably think about how long it has been since your site has been updated, and the fact that the look and feel is just soo dated. Or that the colors and graphics are soo "yesterday", or that you're just simply tired of it. Not to mention that the descriptions of products, services and offerings of your business are not accurate anymore. You may have even been fixating on the fact that the copyright date in the footer says some year other than 2014…
How does It Look on Mobile Devices?
None of that is what we are driving at here, though. You have probably seen your Web site on a computer more times than you can count. Probably on lots of different systems with different size monitors, and running various OS's. Have you looked at it lately on an iPhone? An Android phone? iPad, of whatever generation? How about an Android tablet? What did you think?
If you have had your site redesigned lately, hopefully it looked good on any of those devices. Over the past year or more, Google has been strongly encouraging everyone to have a site that views well on any device. And when Google speaks about whatever it is they consider a "best practice", it behooves you (and all of us) to listen! After all, they above all others determine how much exposure any of us get on the Internet.
There are different ways to achieve the "Web site that views well on any device". You can design a second Web site that is just like your "regular" site but formats for mobile devices only. Then when your Web server sees a request for viewing your Web page come in, it detects what kind of device is doing the requesting. If that request is coming from a mobile device, the request is redirected to the mobile version of the site. Works great, right? Yes, it does. Except that now you have to keep two separate Web sites up-to-date and accurate (no typo's, etc). Sheesh! Just keeping one Web site up-to-date and accurate is hard enough!
Solve the Problem With One Responsive Web Site
Another approach to this problem is to design a Web site that is "responsive" This means that the site see's what kind of device is requesting to download the site page for viewing, just as before. But this time, depending on the screen size and resolution of the device, the coding of the Web files will format that page so that it formats appropriately for that screen size. Try viewing this page using different devices as a test, if you're so inclined.  The image below is this page viewed on an iPhone.  You can see how the Blog post title and the text wraps appropriately, and how the search box formats as it should.  A more image heavy page would show the images swapping smaller sizes, and the head, sidebar, and body elements of the page formatting appropriately for the viewing device.  A look at any part of The Internet Works Web site will illustrate this principle for you.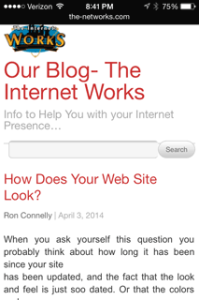 Responsive design of this blog shown in this iPhone screenshot

If any kind of Internet marketing is an important part of your business strategy, then you need to think about incorporating a site design that properly formats for various devices ASAP. Google has been saying this for some time now, so be forewarned… And as you investigate this issue you will learn that there is much disagreement about which strategy is the best to achieve this goal. Google recommends, and we wholeheartedly concur that "responsive" design is absolutely the way forward here. That is what we use, and what we recommend to our clients when asked. Of course, the client is always right in our office!